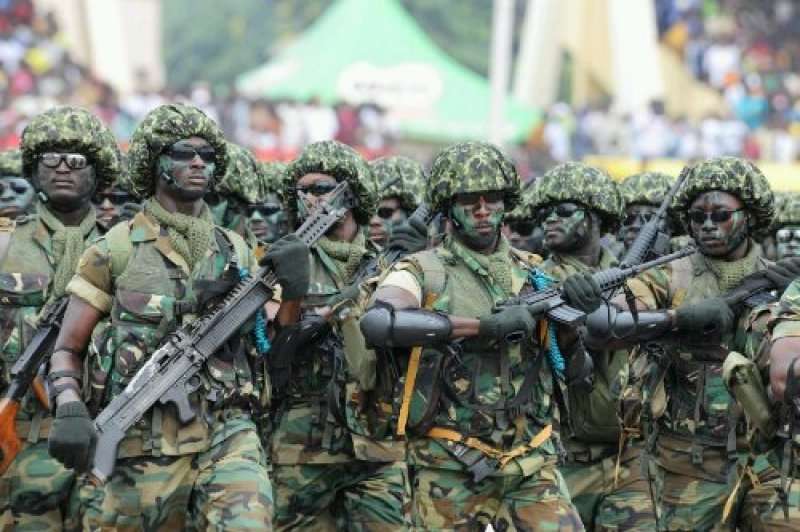 The Ghana Armed Forces has published a 'tall list' detailing the requirements for persons who want to be enlisted into the security service for this year.
Eligible candidates are for instance required not be married, Col. E. Aggrey-Quashie, Director of Public Affairs at the Ghana Armed Forces told TV3's Stephen Anti on Monday.
Applicants would also be considered qualified if he or she is not less than 18 years and not more than 25 years for non tradesmen and 27 for tradesmen by 1st September 2017.
Col. Aggrey-Quashie stressed that "potential recruits should not be married, should not be bounded…should have 6 credits at BECE including English and Mathematics, and five credits at the SSSCE including core English and core Mathematics."
These and other requirements are "very critical or crucial", he said. The requirements have been exhausted in a publication in the Ghanaian Times on April 24 with another one set for publication in the Daily Graphic on Friday.
Recruitment scam
In the era of recruitment scam, the military however assured the general public that, "it is not going to be easy" for persons who would want to outwit their system.
He said the system they are using has been tested for the past five years and they keep improving it every year.
Col. Aggrey-Quashie admonished potential recruits "not to listen to anybody who will tell them that I can go round the system. "
One the person will take your money and he or she will put you into trouble because at the end of the day if we pick you up you will be prosecuted."
"The Ghana Armed Forces wishes to remind the general public that the Force does not employ middlemen or charge fees for recruitment. The public is therefore strongly advised to desist from paying monies to any person(s) who present themselves as agents or middlemen with the promise to help potential recruits join the GAF," Col. Aggrey-Quashie said in an earlier statement.
He was cocksure that with the support of the West African Examination Council, they have put system in place to "detect fake certificate".
Where to Apply
The sale of online application Scratch Cards will commence throughout the country on Tuesday 25 April, 2017 at designated Ghana Post Offices. The portal for the online application will be activated from Monday 08 to Wednesday 31 May, 2017;  interested persons can log on to www.gaf.mil.gh to apply, the statement said.