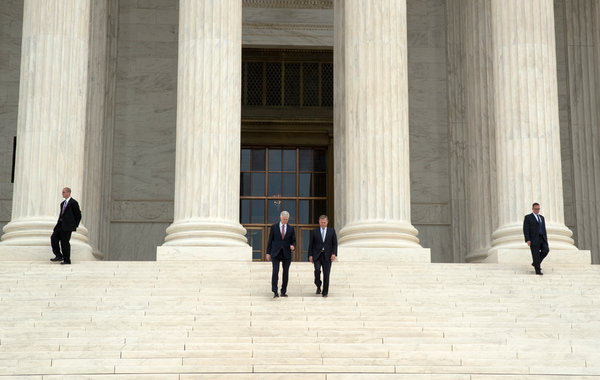 WASHINGTON — The Supreme Court on Friday ruled in favor of an immigrant whose lawyer falsely told him that pleading guilty to a drug charge would not lead to his deportation. When the immigrant, Jae Lee, learned the truth, he sought to go to trial after all.
Chief Justice John G. Roberts Jr., writing for the majority in the 6-to-2 decision, said Mr. Lee should be able to reopen the proceedings against him and take his chances at trial even though the evidence against him was quite strong.
"But for his attorney's incompetence, Lee would have known that accepting the plea agreement would certainly lead to deportation," Chief Justice Roberts wrote. "Going to trial? Almost certainly."
Chief Justice Roberts noted that "if deportation were the determinative issue for an individual in plea discussions, as it was for Lee; if that individual had strong connections to this country and no other, as did Lee; and if the consequences of taking a chance at trial were not markedly harsher than pleading, as in this case, that 'almost' could make all the difference."
Mr. Lee moved to the United States from South Korea with his family in 1982, when he was 13. After graduating from high school in New York, he moved to Memphis, where he became a successful restaurateur. He was a lawful resident but not a citizen and had never returned to South Korea.
Mr. Lee was prosecuted for possessing the drug ecstasy with the intent to distribute it, and his lawyer urged him to plead guilty in exchange for a lighter sentence. The lawyer falsely told Mr. Lee that he would not be subject to deportation after he served his sentence, which turned out to be a year and a day.
On learning the truth, Mr. Lee filed a motion to vacate his conviction, arguing that he had received ineffective assistance of counsel.
Mr. Lee, Chief Justice Roberts wrote, "would have rejected any plea leading to deportation — even if it shaved off prison time — in favor of throwing a 'Hail Mary' at trial."
"Not everyone in Lee's position would make the choice to reject the plea," Chief Justice Roberts wrote. "But we cannot say it would be irrational to do so."
Justices Anthony M. Kennedy, Ruth Bader Ginsburg, Stephen G. Breyer, Sonia Sotomayor and Elena Kagan joined the majority opinion in the case, Lee v. United States, No. 16-327. Justice Neil M. Gorsuch did not participate in the case, which was argued before he joined the court.
In dissent, Justice Clarence Thomas, joined by Justice Samuel A. Alito Jr., wrote that Mr. Lee could not overcome the ordinary standard for proving ineffective assistance of counsel, which requires not only proof of flawed advice but also that the advice harmed the defendant.
The evidence against Mr. Lee was exceptionally strong, Justice Thomas wrote. The police had found large quantities of drugs at his home, and prosecutors were prepared to present a witness ready to testify about buying drugs from Mr. Lee.
"In the face of overwhelming evidence of guilt and in the absence of a bona fide defense, a reasonable court or jury applying the law to the facts of this case would find the defendant guilty," Justice Thomas wrote. "There is no reasonable probability of any other verdict."
"A defendant in petitioner's shoes, therefore, would have suffered the same deportation consequences regardless of whether he accepted a plea or went to trial," he wrote. "He is thus plainly better off for having accepted his plea: Had he gone to trial, he not only would have faced the same deportation consequences, he also likely would have received a higher prison sentence."
The Supreme Court's decision reversed one from the United States Court of Appeals for the Sixth Circuit, in Cincinnati, which had ruled that Mr. Lee had suffered no prejudice, as the correct legal advice would not have helped him. Had he gone to trial, the court said, he would have lost and still have been deported.
But Judge Alice M. Batchelder, writing for the appeals court, seemed uneasy about what the law required.
"It is unclear to us why it is in our national interests — much less the interests of justice — to exile a productive member of our society to a country he hasn't lived in since childhood for committing a relatively small-time drug offense," she wrote. "But our duty is neither to prosecute nor to pardon; it is simply to say 'what the law is,'" she added, quoting Marbury v. Madison.
Source: nytimes.com