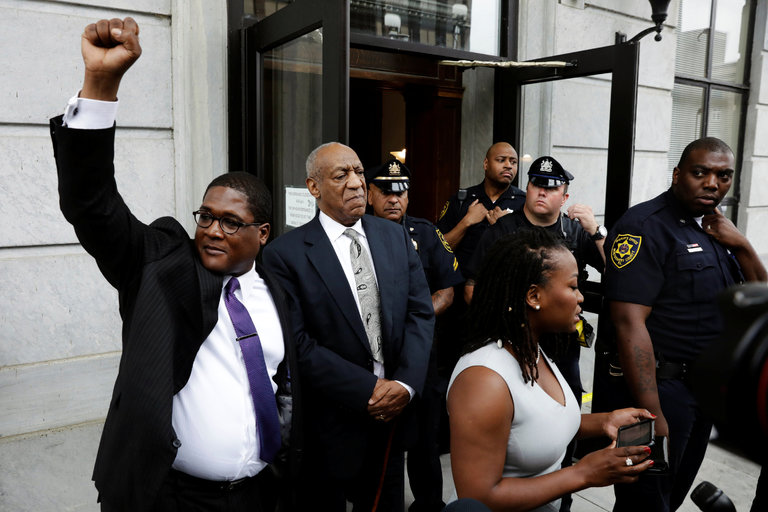 The judge in the sexual assault trial of Bill Cosby declared a mistrial Saturday after jurors reported being hopelessly deadlocked after six days of deliberations, bringing an inconclusive end to this phase of one of the highest-profile cases in recent history.
District Attorney Kevin R. Steele of Montgomery County in Pennsylvania immediately vowed to put Mr. Cosby on trial again.
The outcome denied vindication to either the defendant or the dozens of women who have accused Mr. Cosby, one of the world's best-known entertainers, of assaulting them over a span of decades.
From Monday afternoon through Saturday morning, the exhausted jurors deliberated for about 52 hours — longer than the defense and prosecution had spent presenting their cases — and as much as 12 hours per day. But they could not reach a unanimous verdict on charges that in 2004, Mr. Cosby drugged and assaulted Andrea Constand in his home near here.
Judge Steven T. O'Neill said he would set a date for a new trial within months.
"We will take a hard look at everything involved and then we will retry it," Mr. Steele said, adding that Ms. Constand "is entitled to a verdict in this case."
Mr. Cosby, 79, and Ms. Constand, 44, reacted stoically to the news inside the Montgomery County Courthouse. He watched, expressionless, as the judge and lawyers spoke, rubbing his face a few times. As he walked out, he said to his lawyers, "you lead the way."
Ms. Constand did not react visibly to the proceedings, staring straight ahead in her seat in the front row. She stood as Mr. Cosby passed her just a few feet away, and then, smiling slightly, she hugged her supporters — including her mother and six other women who have accused Mr. Cosby. She seemed to be comforting them more than the other way around. Her lawyer, Dolores Troiani, said they looked forward to a retrial, adding, "We will get to do it again."
But as restrained as the two principal figures in the case were — neither spoke to reporters — pent-up emotion poured out on both sides. One of the accusers, Lili Bernard, wept in the courtroom, and another, Victoria Valentino, said she was "devastated, but the work goes on."
Mr. Cosby's wife, Camille, released a scathing statement accusing the district attorney of being "heinously and exploitively ambitious," the judge of "overtly and arrogantly collaborating with the district attorney," and some news organizations of "greedily selling sensationalism at the expense of a human life."
Judge O'Neill praised the jurors for their service and asked them not to discuss their deliberations. "They are yours and yours alone," he said. Lawyers on both sides said they did not know how the jury had divided between conviction and acquittal.
"Mr. Cosby began this trial presumed innocent and he leaves it that way," said Brian J. McMonagle, Mr. Cosby's lead lawyer. "If the case is retried, know that I will once again put them to the test."
Mr. Steele said that even with an inconclusive result, the case had been valuable because it "sends a strong message that victims of these types of crimes can come forward and can be heard." Too often, he said, such victims do not report their assaults.
Whatever the outcome, the events leading up to the trial smashed the image Mr. Cosby had built over more than half a century in show business, as a genial comedian, the upstanding paterfamilias in the wildly popular 1980s and '90s sitcom "The Cosby Show," and a moralizing public figure. He has admitted to decades of philandering and to giving quaaludes to women to induce them to have sex.
Mr. Cosby's supporters had hoped that a not-guilty verdict might tarnish the broader pool of accusations that had been leveled against him and stained his legacy. Several of the women have ongoing cases in which they have sued Mr. Cosby for slander after his representatives suggested that their accounts were fabrications.
Though the charges were based on a single incident involving one woman, the specter of the other allegations hung over the case from the start. Jurors conceded during jury selection that they were aware of the claims, and in his closing argument Mr. McMonagle had cited the "drumbeat" of highly publicized charges, saying that the case was more media frenzy than legal tribunal.
Mr. Steele had wanted to call a dozen other accusers as witnesses to demonstrate a pattern of behavior by Mr. Cosby, but Judge O'Neill allowed just one to testify — Kelly Johnson, who said that Mr. Cosby had drugged and assaulted her in 1996. Adding weight to the allegations was the revelation in 2015 that Mr. Cosby, in a 2005 lawsuit filed by Ms. Constand, had admitted securing quaaludes so women would have sex with him — an admission that was introduced last week.
Ms. Constand took the witness stand as a proxy for all of Mr. Cosby's accusers, many of whom told stories similar to hers. None of the other women's accusations have resulted in prosecution — in many cases, too much time has passed — leaving hers as the only formal test of Mr. Cosby's guilt and, in the eyes of many of them, the only chance for justice.
The case turned largely on the credibility of Ms. Constand, a former Temple University employee, who testified that in a visit to the home of Mr. Cosby, a Temple trustee, he gave her three pills that he said were herbal. She said the pills left her immobile and drifting in and out of consciousness; he has said they were Benadryl.
"I was jolted awake and I felt Mr. Cosby's hand groping my breasts under my shirt," she testified. "I also felt his hand inside my vagina moving in and out, and I felt him take my hand and place it on his penis and move it back and forth."
But Mr. McMonagle insisted that Ms. Constand was lying, and that she and Mr. Cosby had a consensual sexual relationship, which she denied.
"They've been intimate," he said in his closing argument. "Why are we trying to make it something it's not?"
The defense seized on inconsistencies in the version of events Ms. Constand gave when she went to the police the next year, and statements she made later on: She said the assault took place in March 2004, after dinner at a restaurant, then said it occurred earlier, unconnected to the restaurant outing; she said the incident had been the first time she had been alone with Mr. Cosby in his home, then said it was the third time, and that she had rebuffed his sexual advances the first two times; she said she had minimal communication with him after the incident, then acknowledged many contacts.
"Ms. Constand was untruthful time and time and time again," Mr. McMonagle told the jury. "There is one contradictory story after another."
He questioned why an assault victim would have continued frequent contact with her assailant, and as evidence of a sexual relationship, he cited a trip Ms. Constand took to a resort to see Mr. Cosby perform, when she visited him in his hotel room.
"Why on earth would you go to Foxwoods casino in Connecticut after he has already unbuttoned your pants and put his hands down your pants?" Mr. McMonagle demanded. But he also conceded to the jurors that Mr. Cosby was a flawed man, that his womanizing and drug use had undone his image as a genial comedian and beloved TV father. But that is no crime, he said.
As if to show that he, too, was disappointed in Mr. Cosby — and perhaps offer the jury the catharsis of a public shaming — Mr. McMonagle pointed at his client and declared angrily, "You danced outside your marriage." Turning to Mr. Cosby's wife, Camille, who was making her only appearance at the trial and sitting in the front row, he added, "And you deserved better."
Mr. Cosby did not testify in his own defense, avoiding being grilled by prosecutors about his own conduct, but he and his lawyers have insisted that his encounters with Ms. Constand were part of an affair, not an assault. The defense wanted to call as a witness another Temple employee, to testify that Ms. Constand had told her that she had made up the story of assault, possibly to collect money from a lawsuit, but the judge did not allow the testimony.
During the trial, the prosecution called one expert who testified that victims' accounts are often disjointed and inconsistent, and another who said that Benadryl, in a high dose, could be a powerful sedative. On the witness stand, Ms. Constand explained her lapses as innocent mistakes, and said her contacts with Mr. Cosby after the incident were mostly cursory, the unavoidable result of her job duties.
Mr. Steele had told the jury that Mr. Cosby took away Ms. Constand's ability to consent when he gave her the pills, that their later contacts were irrelevant, and that jurors should ignore what he said were myths about how sexual assault victims were supposed to behave.
When Ms. Constand's mother called to confront Mr. Cosby roughly a year after the incident, he said, the defendant's apology and his offer to pay for her schooling, therapy and a trip to Florida, were evidence that he knew he had done something wrong.
"Andrea Constand's own words, just what she told you, should sustain a conviction in this case," Mr. Steele said. "But under the defendant's own words, you must convict."
Photo
Kevin R. Steele, the Montgomery County district attorney, at a news conference on Saturday. Credit Kevin Hagen/Getty Images
He said Mr. Cosby, a Temple University trustee and the university's most famous alumnus, set his sights on Ms. Constand, an employee in the university's athletic department.
"You ingratiated yourself into this woman's life," he said to Mr. Cosby. "You treated her well. You paid her attention. And then you drugged her and you did what you wanted."
Mr. Cosby was charged with three counts of aggravated indecent assault — penetration without consent, penetration while unconscious, and penetration after administering an intoxicant without the subject's knowledge — all felonies punishable by up to 10 years in prison.
The mistrial leaves in limbo a large slice of American popular culture from Mr. Cosby's six-decade career as a comedian and actor. For the last few years, his TV shows, films and recorded stand-up performances, one-time broadcast staples, have been considered too toxic to touch, and with the mistrial, they are likely to remain so.
The jury of 12 was composed of six white men, four white women, one black woman and one black man. When they first reported being deadlocked, on Thursday morning, Judge O'Neill instructed them to keep trying, but Mr. McMonagle objected and made several motions for a mistrial based on the length of deliberations.
The case moved swiftly at first, going to the jury on the sixth day of the trial. The defense presented a case on Monday that lasted just six minutes — in essence telling the jury that prosecutors had failed to prove anything, and that there was little or nothing left for them to rebut.
The defense team called just one witness, Sgt. Richard Schaffer of the Cheltenham Township Police, who interviewed Mr. Cosby and Ms. Constand after her initial complaint 12 years ago. Mr. McMonagle questioned him briefly about a document he created in 2005, labeled "Questions for Andrea," looking for clarification about elements of her account.
The defense chose not to summon to the witness stand Bruce L. Castor Jr., the former district attorney who in 2005 declined to file criminal charges against Mr. Cosby. Though the prosecutors did not know then of Mr. Cosby's admission about giving women quaaludes, Mr. Cosby's lawyers have repeatedly cited Mr. Castor's decision not to prosecute as an indication that the current case is unfounded.
But calling Mr. Castor would have been a gamble, given his mixed views of the case. He said in a 2014 interview that he did not think, in 2005, that there was enough evidence to persuade a jury of Mr. Cosby's guilt, "despite the fact that I thought Cosby was guilty of some improper behavior."